Care for T-shirt Quilts

Washing
Generally, wash your quilt in a washing machine in cold water. If the quilt is large... queen size or larger... we recommend washing it in a front loading machine or at a laundry mat in a large front loading machine.
Color Fastness
If your quilt has a dark color or red backing or red or dark T-shirts that you don't trust to be 100% color fast, we recommend you wash it with the Shout Color Catchers. If you notice after the first wash that the dye is bleeding (the Color Catchers and the white T-shirts are the color of your backing) don't panic! Wash it right away again with more Color Catchers. Don't let it dry. Keep it in the washing machine. If the bleeding is bad, it may take two or three additional washes. But by keeping it wet and using the Color Catchers, you should be able to get the excess dye out.
Drying
Dry in a dryer with very low or no heat. You can dry the quilt outside, but not over a clothes line as this can stretch and distort the quilt. The best way to air dry the quilt is to lay the quilt out on a sheet to protect it.
Holes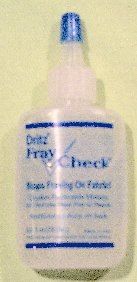 T-shirts tend to get holes in them. It is just their nature. If you start noticing holes in the quilt top, you need to stop their spread as soon as possible. To do this, just apply a drop of Fray Check on the hole. Fray Check is a clear fabric glue that stops fabric from Fraying. Fray Check can be purchased at any fabric store such as JoAnns.
Fray Check is awesome stuff.
Threads
Although we try very hard to make sure that we have clipped all the threads from the quilt, you may notice when your quilt is new that we missed clipping a thread. Don't worry, just clip the thread close to the top and the problem is solved.